from
www.theindependent.com
Posted:
Saturday, April 9, 2016 10:34 pm
|
Updated: 9:21 pm, Mon Apr 11, 2016.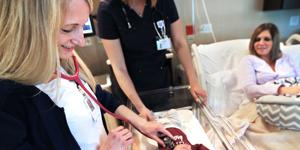 Like many other hospitals, CHI Health St. Francis is having trouble finding enough nurses. In order to increase the nursing supply, the Grand Island hospital decided to grow their own.
CHI St. Francis was already offering tuition reimbursements to current employees who want to go back to school to get their bachelor's degrees.
Beth Bartlett, vice president for patient care services, figured, "Why don't we spend our money in a different way?"
In creating the new program, the hospital decided to "spend the same amount of money and see if we can go find some high school students who might be interested in a health care career," she said.
"Grow Our Own" is the name of the program, which is a partnership between CHI St. Francis, Central Community College and Career Pathways Institute.
CHI St. Francis hopes the program will benefit the Grand Island hospital and help create an interest in nursing.
Under the program, CHI St. Francis will pay CCC tuition and fees for high school students interested in a health care career. In return, the students agree to work for St. Francis for three years.
As part of the arrangement, CCC will hold five seats each year for future St. Francis nurses, Bartlett said. The deal also calls for CHI St. Francis to help CPI with its HOSA program. HOSA was formerly
known as Health Occupations Students of America.
The first five students in the program were selected recently. That group consists of three sophomores and two juniors at Grand Island Senior High.
One of the girls, Crystal Chavez Saquiche, loves the program. "It's amazing," she said, adding that it will help with her tuition a great deal.
Saquiche, a sophomore, is planning to become a pediatric nurse because she loves kids. After she gets her associate degree, she plans to work at CHI St. Francis and go on to earn at least her bachelor's degree.
Saquiche, who has lived in Grand Island almost six years, plans to stay in the city "because I want to be with my family," she said.
In taking part, CCC is "trying to create an affordable education path" for students who are interested in the college's associate degree in nursing (ADN) program, said Jamey Peterson-Jones, early college director at CCC.
CCC is helping in the program's promotion and serving in a supportive role, she said. CCC looks at "Growing Our Own" as a pilot program.
The first five students in the program will start working toward their ADN in their junior and senior years of high school, beginning this fall. Some dual credit classes are taught at GISH by CCC instructors.
CCC will help the students make sure they take the required courses before they actually begin college. With that assistance, they can get into the nursing program without having to wait.
The students will each have a mentor at CHI Health St. Francis. They will also be encouraged to work as nursing assistants while going to school.
CHI Health will pay for the tuition and fees associated with the degree, which requires 72 college credits. A credit hour costs $94.
For each student, CHI Health St. Francis will cover $6,768 in tuition and fees. Bartlett is hopeful that related expenses will also be covered.
Bartlett is pleased that the initial batch of applicants reflected the ethnic diversity of Grand Island. One hope is to bring in more bilingual nurses, she said.
The program began with students at Grand Island Senior High but could expand to other high schools if things go well, Bartlett said.
Dan Phillips, coordinator of CPI, thinks the new program is going to be "phenomenal."
At the same time students apply to CPI, they can also be considered for the CHI nursing sponsorship. CPI administrators check to make sure the applicants are in good standing from a grade, behavior and attendance standpoint.
The supply of nurses ebbs and flows, Bartlett said. But for many hospitals, the trend is not good.
By 2020, experts predict the country will have a shortage of 1 to 1.1 million nurses, she said.
Hospitals in Omaha and Lincoln initially avoided the problem. For awhile, St. Francis was frustrated when young nurses from the eastern part of the state worked in Grand Island for a year to get their experience and then headed back east.
Factors in the nursing shortage are the Affordable Care Act and the fact that the large population of baby boomers will be needing more medical care.
"It's not that people don't want to go into nursing," Bartlett said. A big issue is that nursing instructors are aging, and not enough people are coming on board to replace them, she said.
Another issue is that most nursing programs now graduate one class a year, rather than two.
So a batch of new students interviews and applies for jobs only once a year. Other than that, the only real hope for hiring nurses are those moving from one location to another, Bartlett said.
Many hospitals, including CHI St. Francis, encourage their current employees to go back to school for their bachelor's degrees.
St. Francis has a contract with the Methodist Hospital in Omaha that provides a decreased tuition price for employees who want their bachelor's degree. St. Francis helps reimburse employees for their tuition.
The Grand Island hospital increased the starting wage for nurses by $2.50 an hour several months ago. If people agree to work at the hospital for several years, St. Francis will help them with their student loans. In addition, current employees are given $1,000 if they help the hospital recruit a registered nurse.
Bartlett is a big believer in bachelor's degrees for nurses. If you look at changes in technology and "the critical thinking necessary for very, very sick patients, nurses need to be well-prepared," she said.
Critical thinking, ability and leadership are vital in "knowing how to lead a group of patients and work with physicians," Bartlett said.
Other area hospitals also have staffing concerns.
Memorial Community Health in Aurora has a couple of positions open in long-term care and a couple more in the hospital. "And we don't see a lot of applications come in," said Human Resources Director Laura Teichmeier.
Demand goes in waves, Teichmeier said. A month or two ago, the hospital didn't have any openings. But recently, a few people decided to move on or move out of state, she said.
Mary Lanning Healthcare in Hastings is definitely short of nurses. "We have over 20 openings right now," said Human Resources Director Sharon Hayek. Those nurses are needed in "our in-patient units as well as our clinics," she said.
Mary Lanning employs 300 nurses. The need has been critical for about six months. "We have a lot of nurses who are working extra shifts to help cover for that," Hayek said.
Finding enough nurses has been a challenge since Kearney Regional Medical Center opened.
"We've filled some needs in certain areas, but overall we're constantly recruiting for nurses," said Human Resources Director Steve Beck.
If the "Grow Our Own" program is a success, Bartlett said, "The real winners are our patients.
"