from
INSIDE

NOVA
Education section
:
Arlington school officials start to roll out concept of tech academy
Posted:
Wednesday, October 29, 2014 12:00 pm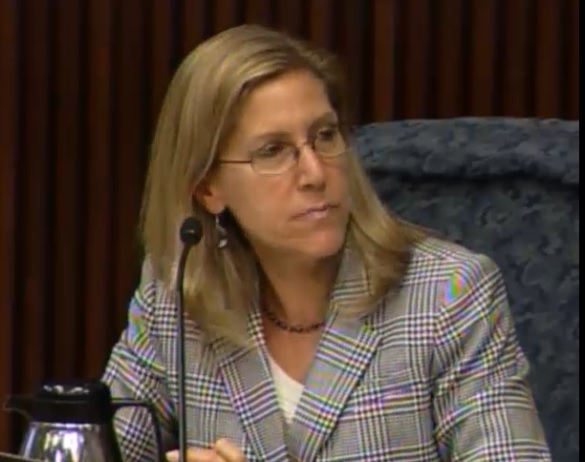 Sun Gazette: Arlington School Board member Abby Raphael.
With so many plates spinning in the air simultaneously, the last thing School Board members may need at the moment is another contentious community controversy.
So they're trying to get the word out – now – about the possibilities that exist to create a "tech academy" at the Arlington Career Center starting with a class of 40 freshmen in the 2016-17 school year.
"There are many of us who are champing at the bit to get this going," said School Board member Nancy Van Doren, but she voiced concern that the idea, which has received extensive internal discussion, needs to get out to the broader community.
It's time to "begin to get people to understand where we're going," Van Doren said. "Let's show people what the vision is, let's show them what kind of money we're talking about."
The issue came before the School Board Oct. 22 not for action, but as part of a plan to include a description it in the school system's 2015-16 program of studies. School officials also are asking for permission to add a counselor who would be responsible for promoting the program to middle-school students and their parents.
That new position would be part of a broader school-system effort as "marketing the program" and "prepare students, prepare families, build some enthusiasm," Superintendent Patrick Murphy said.
Murphy sounds as if he's on board with the concept, saying the proposed tech academy would "open up horizons for students."
For School Board member Abby Raphael, like Van Doren, now's the time to get the ball rolling on a community discussion.
"I just don't think the larger community has seen anything in writing," Raphael said. "This has very significant long-term budget implications."
If it wins School Board approval, school officials anticipate the inaugural 2016-17 class would be joined by a new group of freshmen each of the succeeding three years, until the program operated as a de-facto high school.
The elephant in the room: Would such a tech academy be used to supplant Arlington's participation at Thomas Jefferson High School for Science & Technology?
That school is operated by Fairfax County Public Schools and accepts students from most jurisdictions across Northern Virginia. But school officials in both Arlington and Loudoun counties in recent years have voiced criticism its operations, and each district has vowed to look at other options to give their students similar options closer to home.
Linda Erdos, the school system's assistant superintendent for school and community relations, said the proposed tech academy was not designed as a replacement for Thomas Jefferson, but to serve as "something in between" existing offerings and the highly competitive regional magnet school.
It would be an expansion of the Governor's Career and Technical Academy already in place at the Career Center, she said.
"Building on the work that the Career Center has already begun with Northern Virginia Community Colleges and other colleges and universities, this initiative will create a viable full-time academics and career learning center" focusing on three areas: engineering, IT/digital media and health/medicine, Erdos said.
At the Oct. 22 School Board meeting, there were a number of questions raised:
How would the Career Center accommodate mandatory physical-education classes for students in 9th and 10th grades? "Obviously, the facilities are not ideal," said Connie Skelton, the school system's assistant superintendent for instruction.

How would the growth of a tech academy impact Arlington Mill High School, which currently operates out of the Career Center?

Would sending more students to the Career Center help ease a capacity crunch that currently is centered on the elementary- and middle-school levels but ultimately will hit high schools?

What would all this cost?
"Obviously, there are big budget implications," Skelton acknowledged. Those will be hashed out during the school system's budget discussions in 2015 and 2016.
Supporters of the idea can be cautiously optimistic that it could garner School Board backing.
"There's been a lot of enthusiasm about, a lot of discussion about" the proposal, Raphael said.